Services for Undergraduate Level
Undergraduate Level
At Laustan we have a dedicated team of writers that are well qualified. These writers have vast experience in writing dissertations for all academic levels. They can write papers for undergraduate level, graduate level and also for masters level students. Undergraduate students are usually at a disadvantage when it comes to turning in papers of academic importance like a dissertation. One reason could be because they are not used to writing papers that require so much input and research.
Usually undergraduate students write assignments or research papers. Some institutions require their students to submit a dissertation and make it a core requirement. It is an opportunity for these students to undertake extensive research on a particular topic of their preference and explore the topic through writing a dissertation on it. An undergraduate student that writes a dissertation paper will have to have an idea of what research is and also of how to do it. He/she will also have to know how to collect data and analyze it in a way that is relevant to the topic in question. Students who have only been writing class essays and assignments will definitely find it very difficult to write dissertation papers.
To write a dissertation paper it requires a command over the English language. It requires a deep knowledge of the subject and it requires tremendous planning. Even though they may have the willingness to do so, dissertation papers that are written by undergraduate level students very often do not meet the expectation of the faculty members. It is for this purpose that we at Laustan offer dissertation writing services for the undergraduate students. We are aware that undergraduate students require more guidance than any other level of academic studies. These students are just starting out and they will need all the help that we can give them. Our writers at Laustan are well qualified and can guide these students with the rich experience that they have in the field of dissertation writing. Some of the writers that we employ have also been faculty members and know exactly what a faculty member expects from a dissertation paper of this level. So they will take every effort to guide the student.
We at Laustan are of the opinion that even though the dissertation is not written by the students, the learning process must not be compromised. The writer and student will be in close communication every step of the way. The student will know the process and the effort that goes behind writing a dissertation. Since the writers all hail from English speaking societies they will have the vocabulary that is suitable for a dissertation paper. The writers are also well experienced and have knowledge about all systems of referencing. They will also take every effort to ensure that the papers that they write do not have a single trace of plagiarism. Laustan therefore is a wonderful destination for undergraduates that need to submit a dissertation and are looking for help.
✖
Testing a writer before you Pay sounds good?
No credit card! No payment details! Just submit your requirements and let our writer begin and take it forward if it is really working for you
Let's get started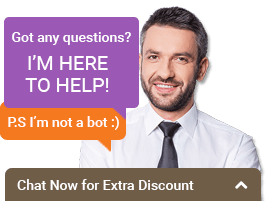 Requset a Callback
Please fill out and sumbit the below form
Your informations is100% safe and secure