Plagiarism Policy
Plagiarism is a very serious issue. We at Laustan are well aware of the repercussions that plagiarized papers can have on a student's academic future. Plagiarism reflects the intellectual value of the offender. This is why we do not tolerate any form of plagiarism in the dissertations that we offer. In order to avoid this, dissertations must be properly referenced. At Laustan we have a strict no tolerance policy to any form of plagiarism. We have adopted three steps to deal with the issue of plagiarism.
Selection of writers:
We believe that it is the writers who make all the difference. We choose writers that are well proficient in their subjects. They are also familiar with all the referencing styles. This ensures that the accidental plagiarism is avoided. Moreover the dissertation writers that you will find on our website have great integrity and have been doing writing for a very long time. They are well aware of the impact that a plagiarized paper can have on a student's future. They will take all efforts to ensure that the paper is genuine and has original content.
We know this from their credentials and the reputation that they have in dissertation writing circles. They will give you excellent genuine plagiarism free papers. Our writers are required to sign a statement that requires them to declare that their papers will not have plagiarized content.
Our Very Own Plagiarism Checker:
Very often it can be seen that students have to submit their papers and then it is the university that checks the papers for plagiarism. By then it is too late. In order to avoid that, we have a system that we have developed with the help of our technical team.
We have an anti plagiarism checker. Even though we have faith in our writers our commitment is to you, the client. We subject all our papers to a comprehensive plagiarism check that is along the same standards that are followed by the likes of turnitin.com. But, it is assured that the paper checked in our system (checking software) will not be caught by turnitin.com and similar software later.
Remedial Measures:
If we see any instance of plagiarism or unoriginal content from any one of our writers we take severe action against them. As soon as we get to know that one of our writers have been sending plagiarized papers we will take disciplinary action against them. Such writers will be asked to tender a letter of formal apology and a letter of admission to plagiarism.
Depending on the severity of the case action will be taken against the writer. If the case is minor the writer will be given a written warning and relegated to a lower rating. We might also fine the writer for the plagiarism. In cases where the papers have been exactly copied from another paper, we dismiss the writer from our website. The writer will then be blacklisted and will not be able to find employment as an academic writer with any of our websites.
✖
Testing a writer before you Pay sounds good?
No credit card! No payment details! Just submit your requirements and let our writer begin and take it forward if it is really working for you
Let's get started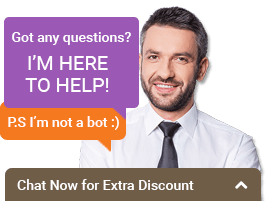 Requset a Callback
Please fill out and sumbit the below form
Your informations is100% safe and secure