Services for Ph.D Level
Ph.D. Level
While laustan.com offers the best in terms of all genres of academic writing, we take special care while scaffolding, building and constructing Ph.D level pages for our esteemed clients and customers. These genres of papers differ from others, not only in terms of scope, intensity, depth of needed research and highest quality considerations, but also because Ph.D papers need to be meticulous and offer careful attention to structure, content, presentation, authenticity/genuineness/originality of ideas presented and arguments debated.
The arguments need to be flawless and convincing, robust and substantive. Not only should it adhere to standard formats of Ph.D presentations, for thesis, dissertations and mathematical/statistical analyses, etc. but it also needs to create necessary solid resources to underpin, share and support future research studies on the topic. Our Thesis, very much unlike Dissertation, relies primarily on the author's views and perspectives on many aspects of the paper, albeit the thesis author may seek recourse to some degree of academic support and substantiation from outside sources. But, our thesis renditions are essentially original and offer only first hand ideas and notions, which are arranged and argued at length, through author deliberations and discussions.
Giving a free hand to thesis authorship can be evidenced from the fact that in several occasions, thesis writers are given the choice to choose their own topic for thesis writings, rather than write on ones imposed by University authorities to work thesis studies on. Obviously, while thesis may be wealthy in original ideas and genuine arguments, it also need to be premised on, and underpinned with sound, plausible and convincing evidences and reference materials, which serve not only to substantiate arguments, but also to authenticate them. Our Dissertation Presentations are also original pieces of academic, scholarly works, with emphasis and focus on resources to reaffirm, or rebut research hypothesis.
Dissertations, unlike thesis, rely heavily on outside secondary sources, with the author having to take a pre emptive stand on whether to support the thesis, or oppose it. Coming to the above illustrations, in Ph.D dissertation, the author would have to argue, taking a stand, while also examining both aspects of how German hateful psyche towards Jews were primary causes for their destruction and also not prime causes for it, since Allied forces were much superior to German forces.
✖
Testing a writer before you Pay sounds good?
No credit card! No payment details! Just submit your requirements and let our writer begin and take it forward if it is really working for you
Let's get started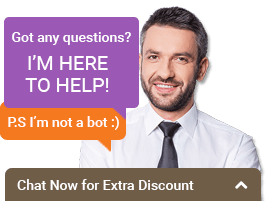 Requset a Callback
Please fill out and sumbit the below form
Your informations is100% safe and secure