FAQ
1. Who are your writers? How qualified are they?
Our writers are from the United States of America, United Kingdom, Canada and Australia. Their first language is English and you can rest assured that the language in the dissertation will definitely be at par with the best academic papers in the world. They are well qualified. Most of them have done their PhDs in their chosen field of discipline. They know as much about their subject as any professor of that particular field. They have written dissertations for a long time and will know how to write your dissertation for you. You will be able to see their credentials and choose from the ones that you need.
2. What is the idea behind giving a test writer for every one of your orders?
We believe that the customer needs to know what he/she will be getting. A draft will give you an idea of what the paper will contain and will also give the writer an opportunity to go through the material that is available.
3. How long does it take for you to write a draft?
You will get your draft within 24 hours. Our writers will be able to write a draft with the inputs you give about your requirements, the topic and any material that you will be able to supply them. The writer who is assigned with your order will communicate with you as this will help both of you to be on the same page.
4. Do you have a refund policy?
Yes. We do. If you find any evidence of plagiarism in the completed paper that we sent you, we promise you that we will refund the entire sum of money that you paid for the paper.
5. What guarantees do you provide?
We guarantee that you will get a plagiarism free paper. we will refund your money if the paper is not genuine. Our writers are well qualified and have English as their first language. We have a 24/7 customer care centre. We also value privacy.
6. Will my dissertation be written according to my requirements?
This is exactly why we offer the facility of drafts. This is an opportunity for you to ensure that the beginning of the writing process is with your approval. The writer will only start writing on the dissertation if you approve the draft. Any additional inputs that you may have need to be communicated with the writer and he/she will include that in the paper. Any exclusion also needs to be communicated and that material will be removed.
7. How much do you charge for a dissertation?
It depends on the number of pages that you need. But we assure you that you will not find a more reasonably priced dissertation writing service that ours. The services that we provide are not rendered by some of the most expensive writing services that are available today. We also offer discounts to repeat customers.
8. How do you deal with plagiarism?
We take it very seriously. We believe it to be a serious lapse in our system if any one of our papers is caught with plagiarized content. We will take serious action against the writer and have a comprehensive anti plagiarism policy. We are very proud to inform you however that none of our writers have ever submitted papers with plagiarized content. But at the same time we do not let our trust in our writers affect our vision, which is to provide 100% plagiarism free dissertation papers.
9. Will I be allowed to communicate with the writer?
Of course, that is one of the advantages of Laustan. We allow you to communicate with the writer directly. This helps you to be on the same page throughout the writing process.
10. Do you charge for revisions?
No, we do not charge for revisions. We want you to be satisfied with quality of writing and turnaround time that you order and will do any number of revisions for free till you are satisfied with the paper.
11. How experienced is Laustan.com? How can I trust the site?
We have been providing thesis and dissertation services for a very long time. We have written thousands of dissertations for students. In this world there is only one way to survive for such a long time, and that is by providing wonderful service which is why you can and should trust us.
12. I value my privacy. Do you value it as much?
Yes, absolutely. We take all efforts to ensure that the private information that you share with us is kept safe within our protected servers.


✖
Testing a writer before you Pay sounds good?
No credit card! No payment details! Just submit your requirements and let our writer begin and take it forward if it is really working for you
Let's get started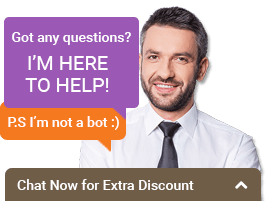 Requset a Callback
Please fill out and sumbit the below form
Your informations is100% safe and secure