Thesis/Dissertation - Editing and Proofreading
We at lausten.com fully understand, appreciate and endorse need for foremost editing and proof reading as core areas for dissertation acceptance and endorsements by the strictest of academic institutions and University frameworks. Indeed many otherwise acceptable and high quality dissertations may not see the light of publishing day, if it were not fully submitted to rigors of editing, spell checking and proof reading routines.
Dissertation editing is executed in order to make them in sync with acceptable standards in terms of content, structure, meaning, analysis and flow. We at laustan.com fully realize that dissertations at doctoral levels need to be 100% free of any kind of mechanical or structural errors, needs arguments to flow seamlessly from Research Hypothesis, and also all research issues and questions need to be fully answered.
According to laustan.com, the job of Dissertation Editor is not only to include important research elements that have been missed out during research deliberations but also, to remove, amend or edit unwanted or irrelevant aspects that may have surreptiously, or inadvertently, crept in. Words, phrases and sentences not only have to be made apt and relevant, but also contextual, logical and appropriate for research debates and deliberations, in smooth, easy, precise and level flowing manner.
Since the proof of the pudding is in the eating, similarly well edited and spruced up dissertations earn greater recognition and higher grades than poorly edited ones. According to lausten.com, this is one of the most underrated, yet most critical aspects of any standard Dissertation Project. It is very important for editors to check for full sentence completions, flow accuracy and consistencies, grammatical correctness, good choice of words, correct writing structures, syntax, grammar mechanics and total absence of spelling errors and mistakes. All this can only be facilitated by diligent and thorough proof reading that checks all necessary aspects, from the first world of the dissertation to its very last word.
✖
Testing a writer before you Pay sounds good?
No credit card! No payment details! Just submit your requirements and let our writer begin and take it forward if it is really working for you
Let's get started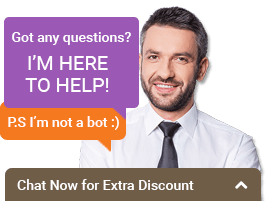 Requset a Callback
Please fill out and sumbit the below form
Your informations is100% safe and secure